My New Orleans Enchanted Micro Wedding
October 24 2022 |
News
My husband and I chose the Sully Mansion for our intimate micro wedding celebration with immediate family. We welcomed family from five different states at the wedding. We each had a few young nieces and nephews to accommodate as well as brothers and sisters, fathers, mothers, and stepmother's. We wanted a venue where the family, who had never met, could enjoy relaxing and getting to know each other under one roof in a casual yet sophisticated atmosphere. My husband and I flew out from California and checked out several beautiful Airbnb's, bed-and-breakfasts, hotels, and private event spaces. Immediately after touring the Sully Mansion, we knew that this would be the perfect venue for our small wedding. From the moment we started the booking process, the owner was professional and accommodating, and allowed us to think through all of the small details over time. She allowed each of our guests to book their individual room within the mansion separately, which we found to be very convenient. She allowed visits from our vendors and was available to answer all of their questions regarding the event space.

The weekend of the wedding, I was nothing but nerves. I was nervous for the two families to meet, I was nervous for all of my vendors to come together to create the perfect day that I had so carefully curated and dreamt of for so many years, and of course being from Louisiana, I was nervous for the weather. It would be just my luck for my wedding to be rained out, but I know we could move the celebration to the parlor should this occur. Everyone arrived right on schedule the Friday before the wedding. They were delighted at the beauty, elegance, and history that the Sully Mansion provided. As everyone settled into their private suites, our crawfish boil vendor set up in the back garden. We hired an acoustic guitarist to strum in the background as all of the family members met. It was a lovely evening although it surprisingly chilly for a March evening!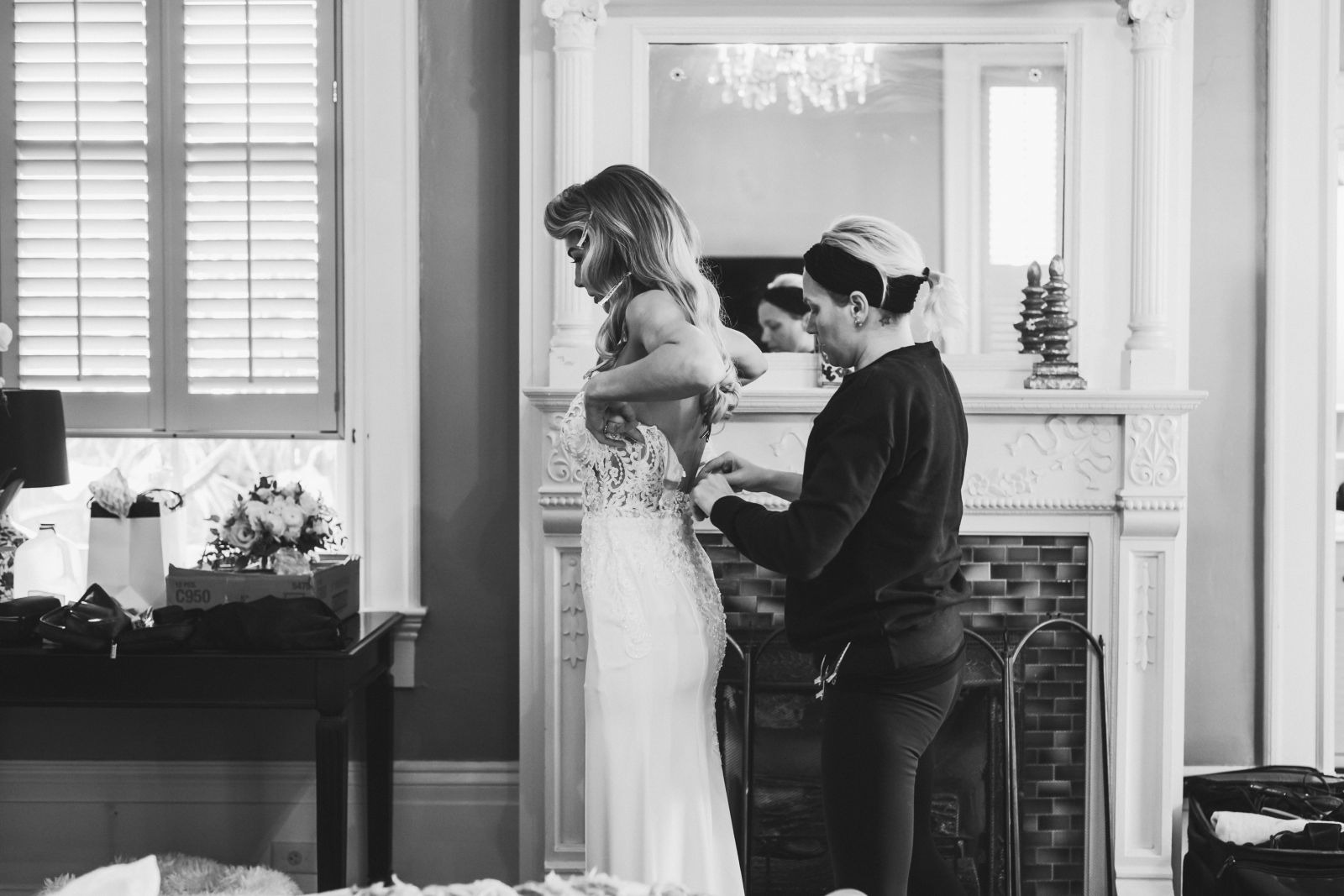 The morning of the wedding, our florist showed up right as the Sully staff were serving breakfast to all of our wedding guests. We chose to decorate the side garden veranda and weave eucalyptus through the bars along with pink and white roses and sheep curtains. We rented simple chairs and set out a few standing candle displays. I chose to stay in the downstairs suite and invited all of the women in attendance to get ready for the wedding with me. As we sipped champagne and waited for our hair and make up to be done, the gentleman tended to their suits upstairs. As four o'clock approached, the violinist began playing on the front patio and I knew my big day was about to begin. The guests were seated as the wedding procession approached, sneaking out of the kitchen back door, and making our way down the garden to the gorgeous rose and eucalyptus wedding arch. Short and sweet, yet filled with emotion, the ceremony was beautiful.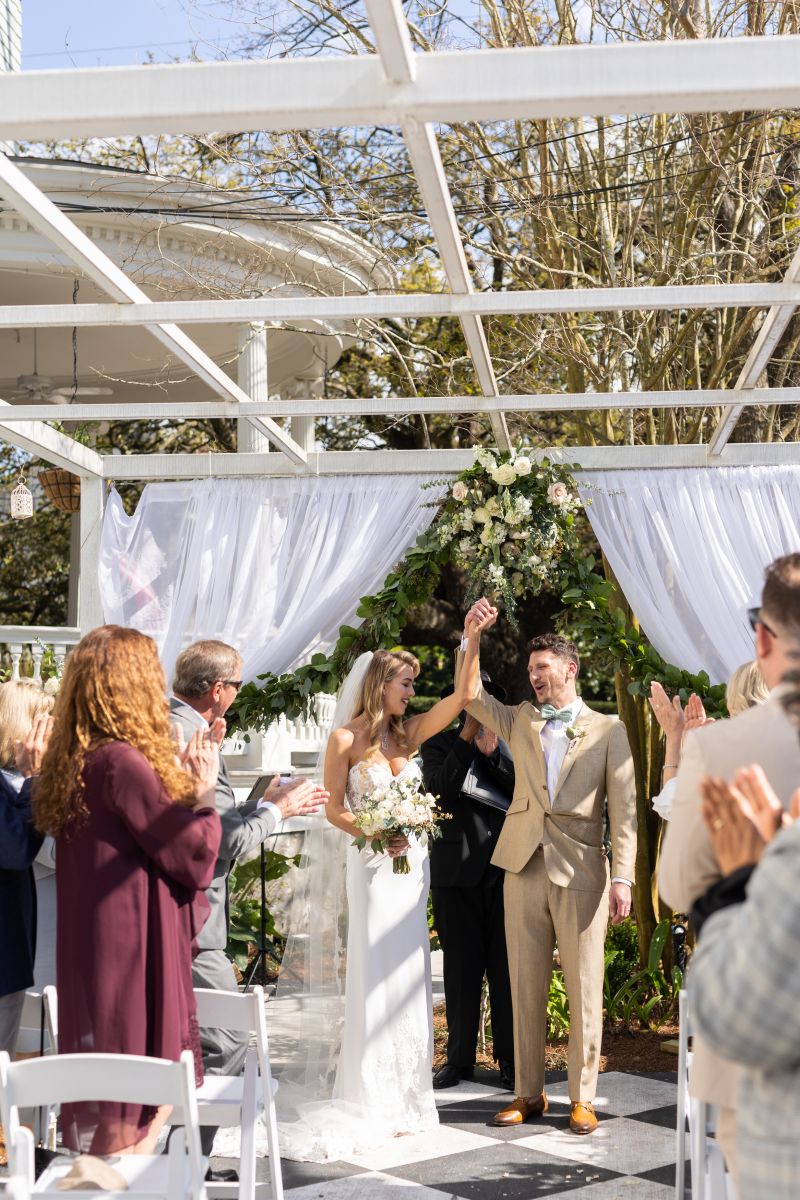 Just as we finished taking family photos and enjoying a celebratory toast on the front terrace, we heard the horse drawn carriages approaching from down the street. Our chariot has arrived! The family loaded into each of the three horse drawn carriages and took a beautiful scenic tour through uptown, then Downtown, then Bourbon Street and Jackson Square. The carriages stopped in front of Jackson Square and unloaded as the brass band marched to meet us. I was very excited about our second line, but it was more than I could've dreamed of. I felt like a princess, or a celebrity, certainly a feeling that I'll never forget, as we danced and marched and kissed through the streets of New Orleans with our small wedding party and our Second Line parade. We stopped at the famous Arnaud's, where we gathered in a private room with a balcony. A saxophonist played and we enjoyed dancing, hors d'oeuvres, and a beautiful New Orleans style cuisine, followed by wedding cake and of course, banana foster over the open flame.

The next morning our final breakfast was prepared by the Sully Mansion staff and our wedding guests almost forgot that it was time to check out and that they would need to depart this beautiful place. We are so very glad that we trusted the Sully mansion to provide what we consider to be the most beautiful private intimate wedding venue that we could've imagined. We cannot wait to celebrate anniversaries and future for family gatherings at this beautiful place.